07 Jan, 2022
Strict Surveillance at Night in Panna Tiger Reserve
To ensure the safe movements of big cats, Panna Tiger Reserve has kept night vision drones. The new night vision (Thermal and IR) drone acquired by Panna UNESCO Biosphere Reserve in its squad in the last week of December will ensure the security of wild creatures. Now the majestic night crawlers will safely roam around in their natural habitat at night.
Panna Tiger Reserve is known for its successful Tiger relocation program after all the tigers had vanished in 2008. It was a very unfortunate incident.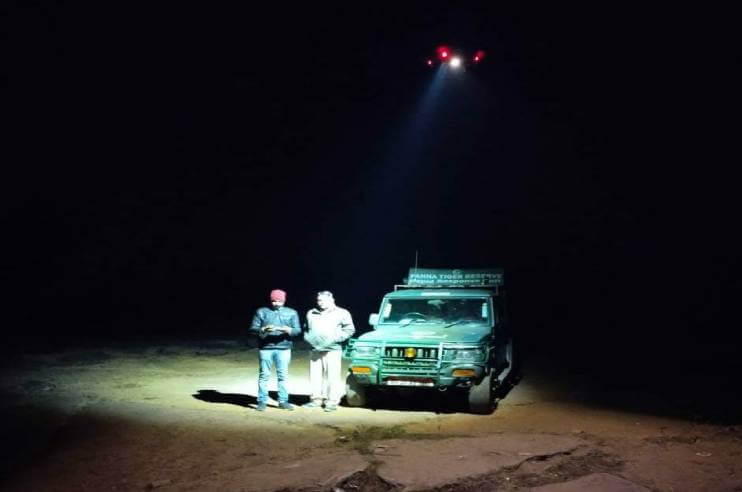 The drone squad was specially formed in August for the protection, monitoring, management and conservation of wildlife at Panna Tiger Reserve. The declining population of Tigers has always been the cause of concern for the future of Tiger tourism. Keeping in mind the security of Tigers in Panna National Park along with other creatures, the initiative to keep Thermal and IR drones would not only keep a strict eye on them but also prevent illegal poaching and trafficking of Tigers.
The DJI phantom drones have sufficient batteries to operate for long hours. There will also be a vehicle and a dedicated drone operator to implement surveillance procedures effectively.
According to park sources "the monthly schedule has been chalked out for the functioning and the use of machines by the drone squad". The director of the park Uttam Kumar Sharma said that the "drones in Panna Tiger Reserve will be used for law enforcement, human- animal conflict, monitoring, search, wildlife firefighting and rescue of the wildlife. Future use of drones has been planned for eco-tourism, monitoring invasive plant species, recreational and educational purposes and documentation of biodiversity."
For better wildlife conservation and management, more drones will be added which will provide 24 hours backup in the sensitive areas of the park.
The wildlife Institute of India and National tiger conservation authority has already started efforts by testing drone flights in the year 2017 but things got delayed at that time but this time Panna Biosphere Reserve effectively implemented the plan to plant night drones to safeguard the future of Tiger tourism in Panna National Park along with other vulnerable creatures.
You May Also Like to Read
Popular Posts
---
Follow Us
---
Recent Posts
---