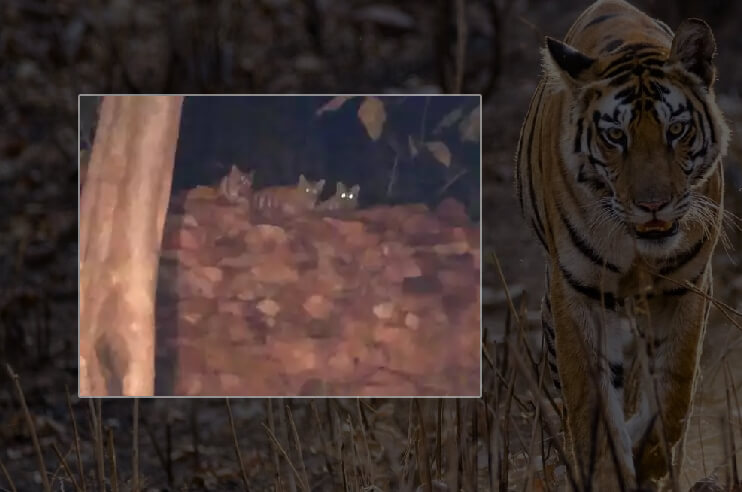 16 Mar, 2020
Celebrate Good News – Tigress Gives Birth to 3 Cubs in Panna National Park
If listening or reading about the coronavirus has left you scared and frustrated of late, here's a piece of news that will cheer you up. A famous tigress in Panna National Park, named P234, has given birth to three cubs. But what is more interesting to know is that one third of the tiger population in Panna belongs to her. She was translocated from Kanha National Park in 2009.
Cubs spotted sitting on pebbles inside the park
The field staff spotted the three tiger cubs when they were taking a stroll along with their mother. The director of Panna National Park, KS Bhadoria, said, "The field staff monitoring the movement of the tigers in the reserve spotted the cubs on Friday when the mother accompanied by the cubs were seen taking a stroll." One of the field staff members who clicked the pictures of the mother along with her cubs, said, "They were also seen sitting atop a pile of pebbles in the jungle."
How did P234 arrive in Panna National Park?
Despite how unbelievable it may seem, there was a time when the tiger population in Panna National Park had come down to zero. That was when a tigress from Bandhavgarh National Park named T-1, and another tigress named T-2 from Kanha National Park, were relocated to Panna. A male tiger named T-3, was brought over from Pench Tiger Reserve.
P234 was a part of the third litter of T-2, and coincidentally, the three cubs are also the third litter of P234. In 2019, two tigresses, P-151 and P-142, gave birth to two cubs. The total number of tigers inside Panna National Park has now increased to 55, the park officials said.
Panna National Park News Inputs.
Popular Posts
---
Follow Us
---
Recent Posts
---