Kanha National Park
Rudyard Kipling was so impressed with the landscape and wildlife of Kanha National Park that he wrote "The Jungle Book". No sooner you enter Kanha's 940 sq.km area than you get the feeling of having been embraced warmly by nature in this one of the largest national parks in Madhya Pradesh. Kanha National Park has several achievements to its credit. Not only did it play a crucial role in saving the Barasingha from extinction, it is also one of the best administered parks in India. Kanha National Park is where the roar of a tiger nearby, an elephant rolling around in the mud or an impatient call by an Indian Roller, leave you exhilarated and remind you gently of nature's infinite beauty!
The park is home to more than 350 species of birds, 70 species of trees, 200 species of flowering plants along with more than 50 species of animals. It is here that the documentary by National Geographic, "Land of the Tigers", was shot. As a tourist though, it's not just the magnificent Royal Bengal Tiger which captivates you, there is the dainty Barasingha and ferocious wild dogs. Then, you also come across places like Shravan Tal, associated with a major episode in the Hindu mythological epic, Ramayana. Indeed, nature and mythology come together to make it a fascinating place, hiding many wonders which are only discovered with one, or many visits!
Total Coverage Area: 940 sq. kms Surrounded Area: Surrounded by 100, 500 hectares of additional buffer area. Extended In: 1933 as a sanctuary Declared as a National Park: In 1955 Became a Tiger Reserve: In 1975 Distance from Panna National Park: 350 Km Approx.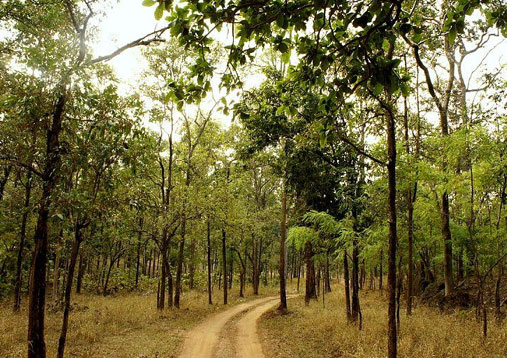 Flora & Fauna
Kanha National Park is home to an incredible variety of flora and fauna. Besides the Royal Bengal Tiger which is found in significant numbers, the park is also home to other animals like barasingha, wild dogs and leopards. Around 350 species of birds and flora can be found inside the park. Its flora is as impressive as its fauna, with the park boasting more than 70 species of trees and 200 species of flowering plants. The vegetation of the park is mostly of dry deciduous type, with trees like mahua, sal, lendia, saja, dhawa and bija found in large numbers. It is this incredible variety of wildlife which makes Kanha National Park one of the most visited wildlife sanctuaries in India.
Best Time to Visit Kanha
Kanha National Park remains open for visitors from October to June. You can visit it anytime during these months.
Summer

March to June – 32°C to 44°C
The summer season in Madhya Pradesh starts from March and lasts till June. You should plan a visit to Kanha National Park during this time because tigers and other animals frequently visit waterholes, and the chances of sighting them are very high.
Winter

Oct to late Feb- 5°C to 25°C
Winters are the best time to visit Kanha National Park, as the temperature is cool and pleasant, and perfect for enjoying a safari. Winters are also when a lot of migratory birds visit the park.
Monsoon

July to Sept – 32°C to 36°C
Kanha National Park remains closed for visitors during the monsoon season, from the months of July to September.
How to Reach Kanha
The nearest airport to Kanha National Park is Jabalpur airport (170 km) which is well connected to all the major cities of India. From there, you can hire taxis and private vehicles to reach the park.
The nearest major city to Kanha National Park is Jabalpur (165 km). However, there are no direct bus services from Jabalpur to Kanha. To reach Kanha, you will have to make a stop at Mandla, from where it's a 40-minute drive. If you are arriving at Kanha from Panna National Park, you will have to cover a distance of 316 km by road
The nearest railway station to Kanha National Park is Gondia Junction Railway Station (123 km). From there, you can hire taxis and private vehicles to reach the park.