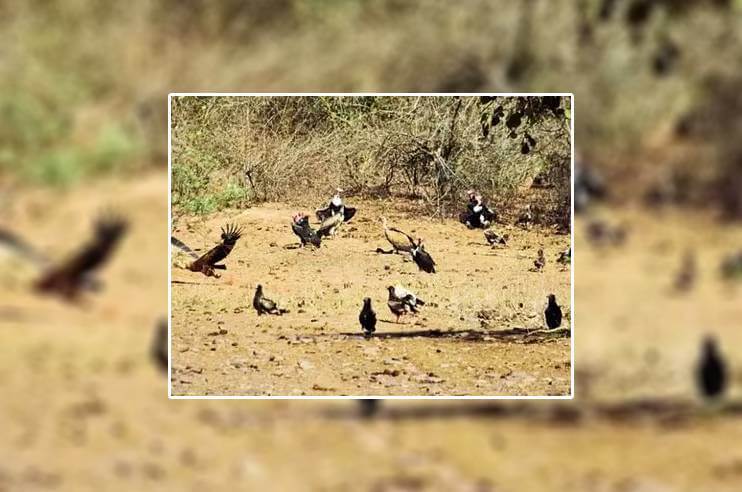 11 Jun, 2020
Nests of 160 Vultures Found Near Panna Tiger Reserve
The Indian Vulture, native to India, Pakistan & Nepal, is listed as Critically Endangered on the IUCN Red List since 2002. In India, their population decreased at an alarming rate in the 1990's due to kidney failure caused by ingesting residues of diclofenac. Although there are nine species of vultures living in India, most of them are on the verge of extinction.
However, there are some glimmers of hope on the horizon. A new roosting site of over 160 vultures, many of them belonging to a rare species, have been spotted about 60 kilometers from Panna Tiger Reserve.
Their discovery has sent a wave of joy and enthusiasm among wildlife officials & conservationists.
Where were the vultures sighted? What kind of vultures were sighted?
The vultures were sighted about 1 kilometer from NH 75 which connects the districts of Panna and Katni.
Some of the vultures species spotted include white-rumped vulture, Egyptian Vulture, black vulture, king vulture & long billed or Indian Vulture. Nests on big old pipal & Arjun trees on the cliffs on Chandan Ghat, a hillock in Vindhya Range, have been spotted. According to sources, a big nullah (drain) serves as the source of water throughout the year.
Here's what Hemant Yadav, Deputy Conservator of Forests, has to say
It was Hemant Yadav, the Deputy Conservator of Forests, who photographed the vultures. He clearly remembers the day when he spotted their nests. He says, "It was a hot afternoon in the first week of April, but not very hot. The temperature was below 42 degrees Celsius, almost 6 degrees below normal, and this may be the reason for the sighting."
Hemant Yadav, who is currently posted in Panna South Forest Division, also added that the best part about sighting the vultures was that "a good number of juveniles, the number of species, and of course that there were over a hundred of them. It was a wonderful sight."
Divisional Forest Officer Mina Mishra said, "This is a protected forest but not a protected area, like a national park. Still, the sighting is a good news for the Greater Panna landscape. During field visits, we also spotted them on some other hilly areas, like Tendu Ghat."
We hope for more such sightings across the country
The vulture sightings are certainly a cause for happiness and enthusiasm among wildlife lovers and conservationists. We hope that more such sightings are reported across the country and the vulture is brought back from the verge of extinction.
News Source: Times of India