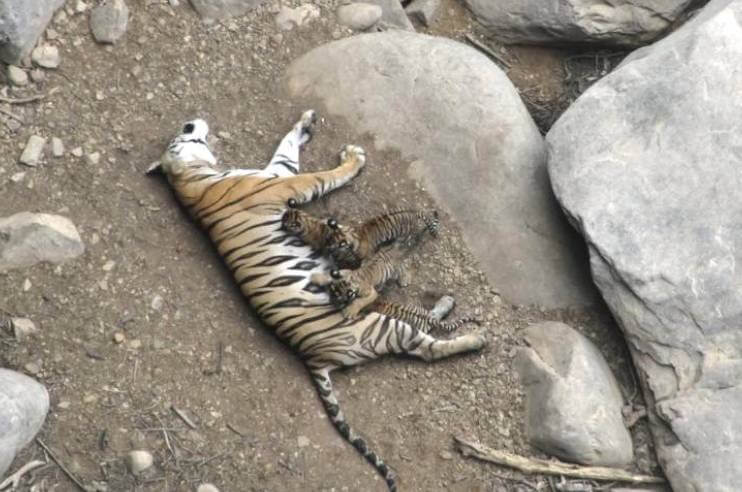 07 Feb, 2023
Panna Tiger Reserve Mourns the Loss of T1, a Beloved Royal Bengal Tiger behind Panna's Successful Reintroduction Mission
Remember the story of Panna Tiger Reserve's successful tiger reintroduction in 2009? Well, T1, one of the tigresses who was brought from Bandhavgarh National Park in Panna for the mission, was found dead on the first day of this month (February 1, 2023). The 17-year-old beloved species has contributed a total of 13 cubs in five litters.
PTR or Panna Tiger Reserve's Field Director, Brijendra Jha said after a team of forest officials inspected the area where the carcass of T1 was found dead, "A patrolling team spotted the carcass of a big cat on Tuesday evening in the Madla range. An inactive radio collar, which was worn by T-1 in 2017, was found near the carcass." As per the rule of NTCA or National Tiger Conservation Authority, a postmortem was done and according to the reports, T1 died due to natural reasons. However, as per the rules of NTCA, the viscera was also sent to the Sagar and Jabalpur laboratories for further examination.
T1 was known for being a successful hunter and also for being the first tigress to be successfully reintroduced into the reserve along with T2 from Kanha National Park and T3 from Pench National Park. The reintroduction of tigers was a successful mission as PTR now has around 84 to 86 big cats which were absolutely 'zero' in 2009. And, it is worth mentioning that, 13 out of this total number were contributed by T1 alone, during her five litters including four in 2016, which was her last contribution to the forest.
According to forest officials, T1 has outlived the average lifespan of a tiger. The average age of a tiger is 14 while T1 lived for 17 years. Recently, she was seen roaming in the buffer zone as she was surviving on other big cats and their hunting. She had lost the strength for hunting due to her old age.
According to the All India Tiger Estimation Report 2019, Madhya Pradesh has now the highest number of big cats in India and Panna Tiger Reserve is undeniably one of the main contributors to the number. However, the forest officials as well as wildlife enthusiasts of the country are deeply saddened by the passing of this beloved tigress. Her majestic presence and spirit will be greatly missed by them.
A symbol of strength and beauty, T1 will be deeply missed by all who were lucky enough to witness her in the wild.
May she rest in nature, forever.
PC: FD RS Murthy